C. L. Getchius Photography
Craig & April Getchius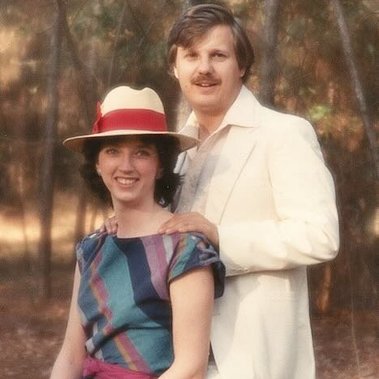 Craig & April, C. L. Getchius Photography
C. L. Getchius Photography is about photography and Fine Art Giclée prints created by Craig and April Getchius. At the moment, we are concentrating our photographic efforts on landscape and nature photography. While today that is our major emphasis we continue to explore other genres of photography. We find seeking out and exploring new areas of photography keeps our minds and creativity from becoming complacent. No matter how old one becomes, there is always something new to learn and or discover.
Besides the photographic print, we also have started creating short landscape and nature videos. So now, we also offering our customers licenses to lease photo files and stock files in various ways. We are planning in the near future to use this website to showcase other photographers, videographers, and artists' creative works. It is our hope in doing so it will help these up and coming artists get established in this highly competitive creative field.
Unless otherwise stated, all our Signature Fine Art Giclée Prints are printed in-house and reviewed by Craig Getchius. Of course, unless stated otherwise, all our videos are created and edited in house.
We should note that due to circumstance out of our control, the pandemic and some minor health issues, for the last three years, our online presences went dormant. The biggest problem we had was keeping available enough printing supplies to honor customers orders quickly. We did not feel it was fair for customers to wait up to three months for an order to be completed. Thankfully, that problem and other problems we experienced during the last three years are behind us. Once a Signature Fine Art Giclée Print online order is completed, the customer should receive their print or prints within two weeks.
We are excited about creating this new website and hope you enjoy the experience of browsing our photography and products. Today we feel the website has progressed to where it is functional enough to publish online. It is still a work in progress. Tweaks and additions will be continued to be added. It just takes time.
If you want to reach out to us, please use the email boxes that you will find throughout this website. If you contact us through this website or our blog, we assure you we will not share your information with any third parties or send you unsolicited emails.
Craig & April Getchius
March 8, 2023
P.S. The photo to the left was taken a few years ago. About ten years ago. Nope, that is not right, Maybe twenty years ago. Naw, still not right. Okay about thirty years ago. Yep, we will go with that. To find out more about us read on. Always Young at Heart.
About Craig L. Getchius
Craig Getchius picked up his first serious, professional camera in about 1975. He rapidly fell in love with the art and technique of photography. His early work was the standard fare: weddings, portraits (always seemed to shoot sorority sisters and never fraternities… hmmm) various assignments and then fashion photography.
At a point when the fashion industry took too much effort and too many spoiled, demanding personalities were giving photographic advice, he began photographing landscapes.
A trip to Yellowstone with his wife and sidekick, April, was a life-changing experience. Craig had never seen snow-covered mountain peaks before, and the wonder of the scenery and wildlife was overwhelming. After several trips west to Yellowstone National Park, Grand Teton National Park and Rocky Mountain National Park, April and Craig moved to Wyoming and later Colorado. The opportunities for wonderful pictures presented themselves at every turn, and Craig seized the opportunities to perfect his craft and art. Now, many years later, he has a portfolio that I find amazing and I am sure you will find interesting. Especially if you're interested in amazing landscapes; wondrous animals; the joy of still life; or the capture of street life that is right in front of all of us, but we so often cannot see.
I am pushing him to put all his keepers up at once. He says it is best to change the galleries occasionally to keep the website interesting and evolving. I imagine that discussion will go on for some time. 😀 ADG
About April D. Getchius
Most of April's adult life comprised her serving the public with careers in local and state government. Among her titles were city planner, director of community development, head of the department of aging, and town manager. Hey, for all of you who think that these were cushy positions, I am here to tell you that April rarely worked a forty-hour work week. Instead, it was usually a sixty-hour work week and sometimes an eighty-hour work week. It was not uncommon for April to begin her work day at seven in the morning and not return home for the night until after ten in the evening. City Council meetings have a way of going on forever and ever.
During this time, she also raised three children. Actually, she only had two boys. I admit for years, early in our marriage, I was not exactly a mature man. Thank you, April, for sticking with me while I slowly matured.
April has been my wife and friend for almost fifty years and counting. Her career in government is now behind her. We all age. Nevertheless, April's sparkling personality has never changed. She loves being around people. She love's family gathering. Now she enjoys the simple things in life. Such as cooking, traveling, embroidering, exercise, yoga, and yes, she is always ready for a good party or fun night out on the town. Also, she has become a big-time sports fan. She loves the Green Bay Packers and Chicago White Sox.
Now April is helping me with my photography business and learning the skills of photography and video.
Amazingly, she enjoys life today, just as she did when I first met her so many years ago. I occasionally turn to her and say "How is April's world?".
If you are in April's world, you see your surroundings as good. You look forward to each new day. You are dedicated to those you love. You cherish your friends. You will volunteer to make life better for others. You are excited about the little things in life and that excitement is contagious for those around you. Yes, April's world is a wonderful world. I am glad I am still part of it. CLG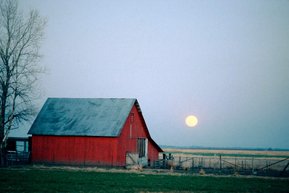 Craig's First Landscape Print Sold
In the 70s I sold my first landscape print. It was exhibited in a gallery in Mahomet, Il. Actually the photo was a mistake. That is not the sun in the sky. It is the moon. It was suppose to be a moonrise shot. Back then we used film. I didn't realize the exposure mistake until the positive (slide) was developed and returned to me a week later. The camera was a Pentax K1000, slide film was Kodachrome 64. The day of the sell was one of the most happiest days of my life. CLG
April's First Wildlife Keeper
December 18, 2011 We were driving around Rocky Mountain Nation Park. Craig was driving when we spotted these big horn sheep. We stopped the car, I rolled down the window, Craig handed me the Nikon 1, V1, I put the viewfinder up to my eye, composed and pressed the shutter. We were tourist that day. When I took that photo I realized the sensation Craig experiences with his photography. I had caught the photography bug. ADG